On July 3rd, Flightreviews.net had the honor of being invited by Qatar Airways and Lyon Saint-Exupéry Airport to attend the inauguration ceremony of the new route between Doha (Qatar) and Lyon (France). This expansion marks a significant milestone for Qatar Airways, making Lyon the third French city served by this Middle Eastern airline, after Paris and Nice.
Strategic location, global influence, and tourist attractiveness of Lyon
Located in the southeast quarter of France, Lyon stands as the third-largest city in the country, following Paris and Marseille. Thanks to its strategic position on major North-South European trade routes, Lyon plays an essential role in the economic exchanges of the region, the country, and the European Union. It has distinguished itself by developing significant financial, cultural, pharmaceutical, and military hubs.
As the second most popular tourist destination in France after Paris, Lyon attracts over 8 million visitors annually. Additionally, the city regularly hosts international events, making it the second-largest French city in terms of major events.
© Willian Justen de Vasconcellos
Qatar Airways, a young and dynamic airline
With a relatively young fleet, Qatar Airways is one of the fastest-growing airlines. Thanks to its extensive network of over 160 destinations, Qatar Airways is widely recognized as one of the best airlines in the world, offering superior onboard and ground services.
© Yann Arnould / Flightreviews.net
For business travelers as an example, the airline boasts one of the best Business Class offerings on the market and provides passengers with exceptional airport lounges. For instance, Doha-Hamad Airport, serving as Qatar Airways' hub, is home to a brand new lounge by Louis Vuitton, an exceptional lounge featuring cuisine curated by the three-Michelin-star chef, Yannick Alléno. The inauguration of this exceptional lounge further enhances the reputation of Doha Airport, considered one of the best airports in the world.
© Louis Vuitton
The airline claims that the transit experience through Doha-Hamad is unparalleled. With its blend of water, light, and lush vegetation, the airport provides travelers with a true tropical oasis during their layovers. Moreover, Doha Airport is renowned for its remarkable efficiency, unparalleled user-friendliness, and family-friendly services. Through its close partnership with Doha Airport, Qatar Airways is committed to providing its passengers with a memorable layover.
Furthermore, the Gulf carrier seeks to increase its visibility among the general public by positioning itself in renowned sports events. Qatar Airways is an official partner of various sports teams such as the Paris Saint-Germain football team and The Brooklyn Nets basketball team. It is also a global partner of Formula 1 until 2027 and the official sponsor of several prestigious Formula 1 Grand Prix events.
Since joining the Oneworld alliance in 2013, Qatar Airways has enjoyed a close partnership with British Airways, including the sharing of the same loyalty program: Avios. This collaboration offers Qatar Airways passengers access to an extensive network of additional connections, facilitating their travel and providing more routing options.
Qatar Airways is strengthening its presence in France with the addition of Lyon to its network of destinations. This new route, inaugurated yesterday, connects Doha-Hamad Airport to Lyon-Saint Exupéry Airport with four weekly flights on Mondays, Wednesdays, Fridays, and Sundays. The outbound flight departs from Doha at 08:25 and arrives in Lyon at 14:10 (local time). The return flight leaves French soil at 16:35 and arrives back in Qatar late in the evening at 23:35.
© Yann Arnould / Flightreviews.net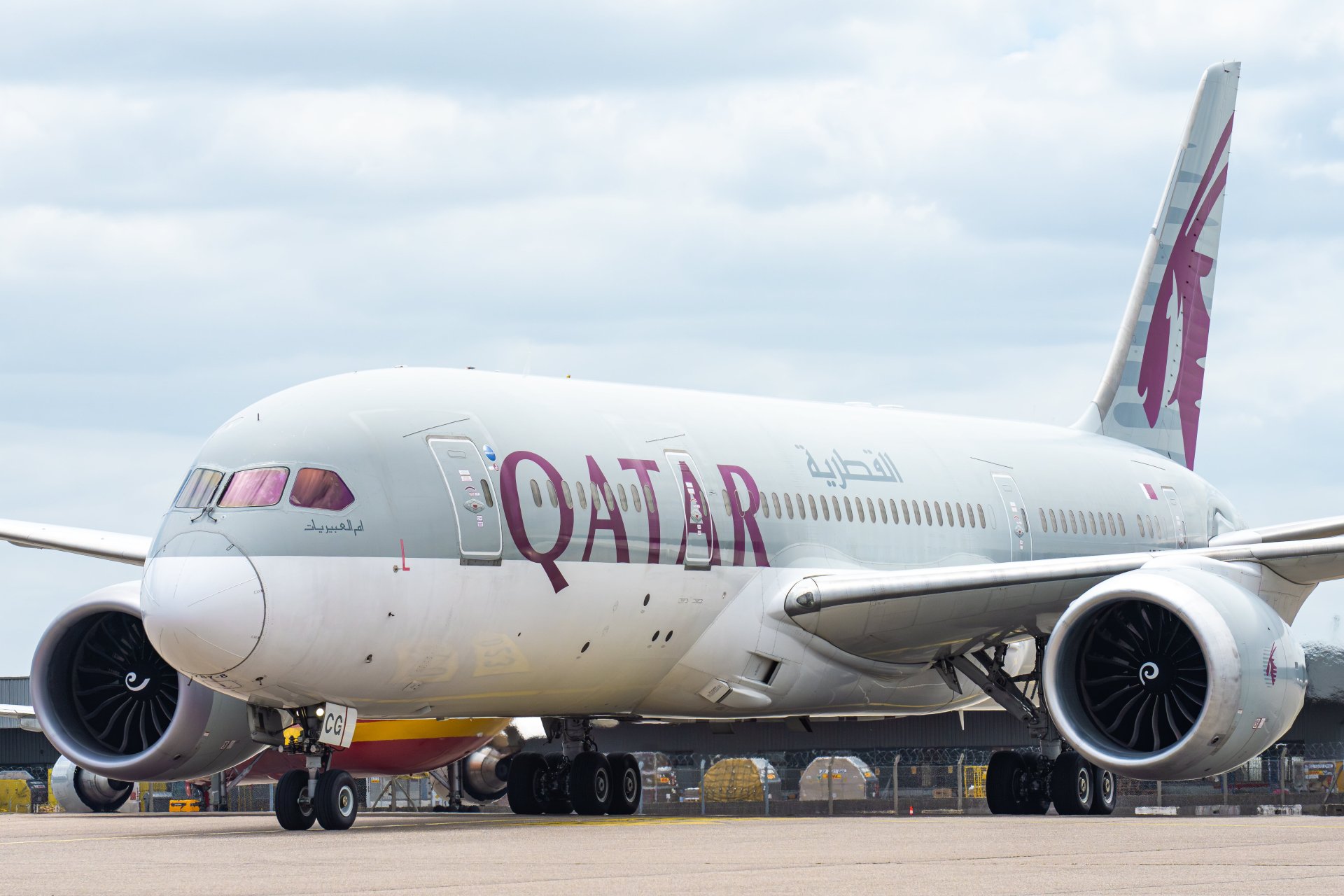 © Yann Arnould / Flightreviews.net
© Yann Arnould / Flightreviews.net
© Yann Arnould / Flightreviews.net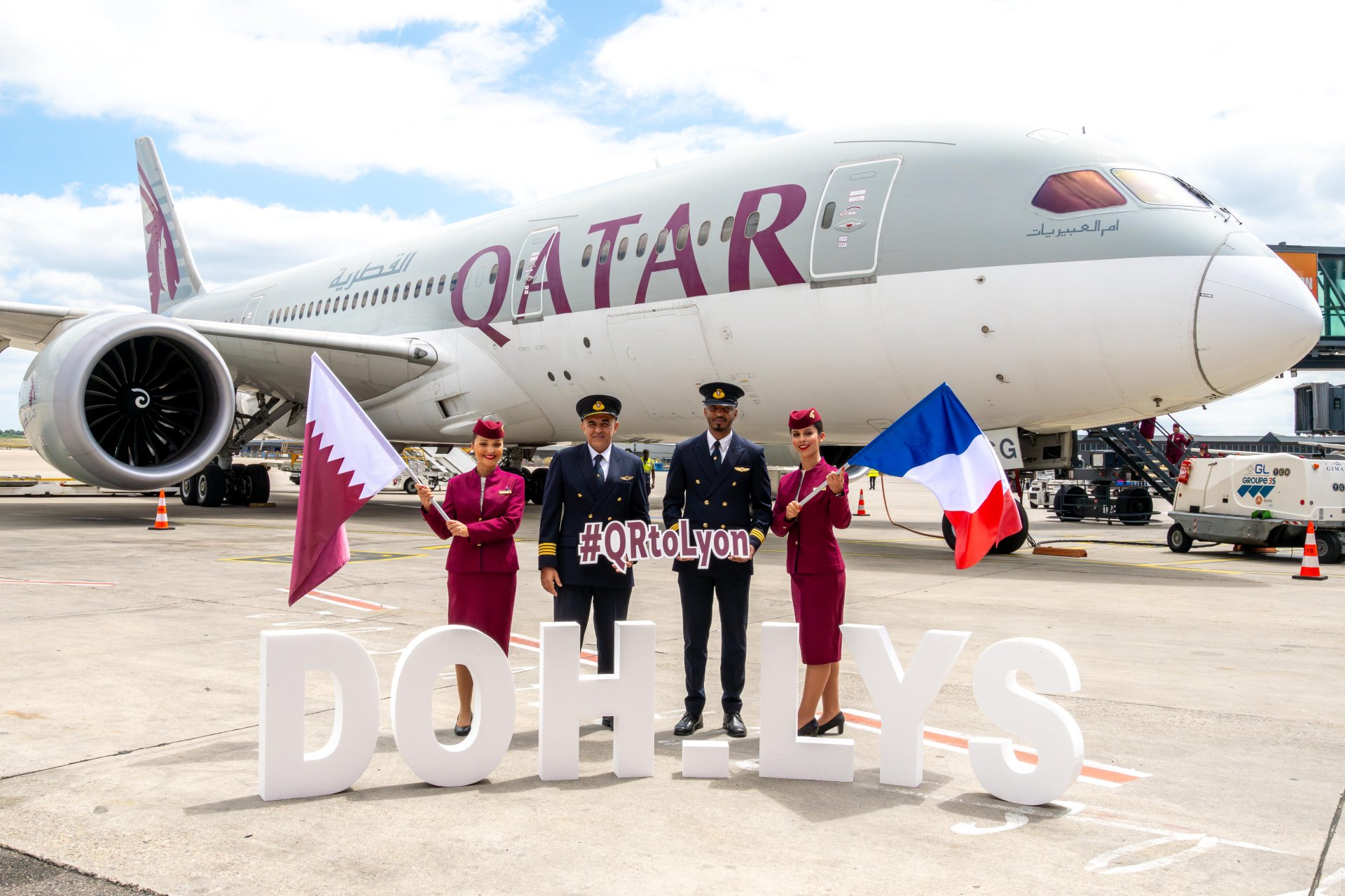 © Yann Arnould / Flightreviews.net
Thanks to this new service and the carefully chosen schedule to optimize connections in Doha, Lyon will now be easily connected to highly popular tourist destinations such as Bangkok (Thailand), Denpasar (Indonesia), Dubai (UAE), Hanoi (Vietnam), and Tokyo (Japan). This will open up new travel opportunities from Lyon to these sought-after destinations, while bringing the whole world to Lyon.
This new route is operated using the Boeing 787-8, the shorter version of the 787 Dreamliner, designed to accommodate 22 passengers in Business Class with a 1-2-1 seat configuration, and 232 passengers in Economy Class with a classic 3-3-3 configuration.
© Yann Arnould / Flightreviews.net
According to Qatar Airways, the Business Class offered on the 787-8 aircraft provides a high-quality experience. However, these aircraft do not feature the QSuite cabin, the famous next-generation Business Class cabin found on some of their Airbus A350 and Boeing 777 aircraft. Instead, they are equipped with a standard full aisle access configuration in a 1-2-1 reverse herringbone layout.
© Qatar Airways
The Economy Class, in a classic 3-3-3 configuration, is also considered a premium product by the airline. The modern seats are equipped with individual entertainment screens, including the Oryx One entertainment system, identical to the one offered in Business Class, providing passengers with a wide selection of over 6,000 entertainment programs, including 1,100 movies and specially curated content for children. Additionally, the airline is committed to providing quality meals with generous portions and an attentive crew delivering exceptional service onboard.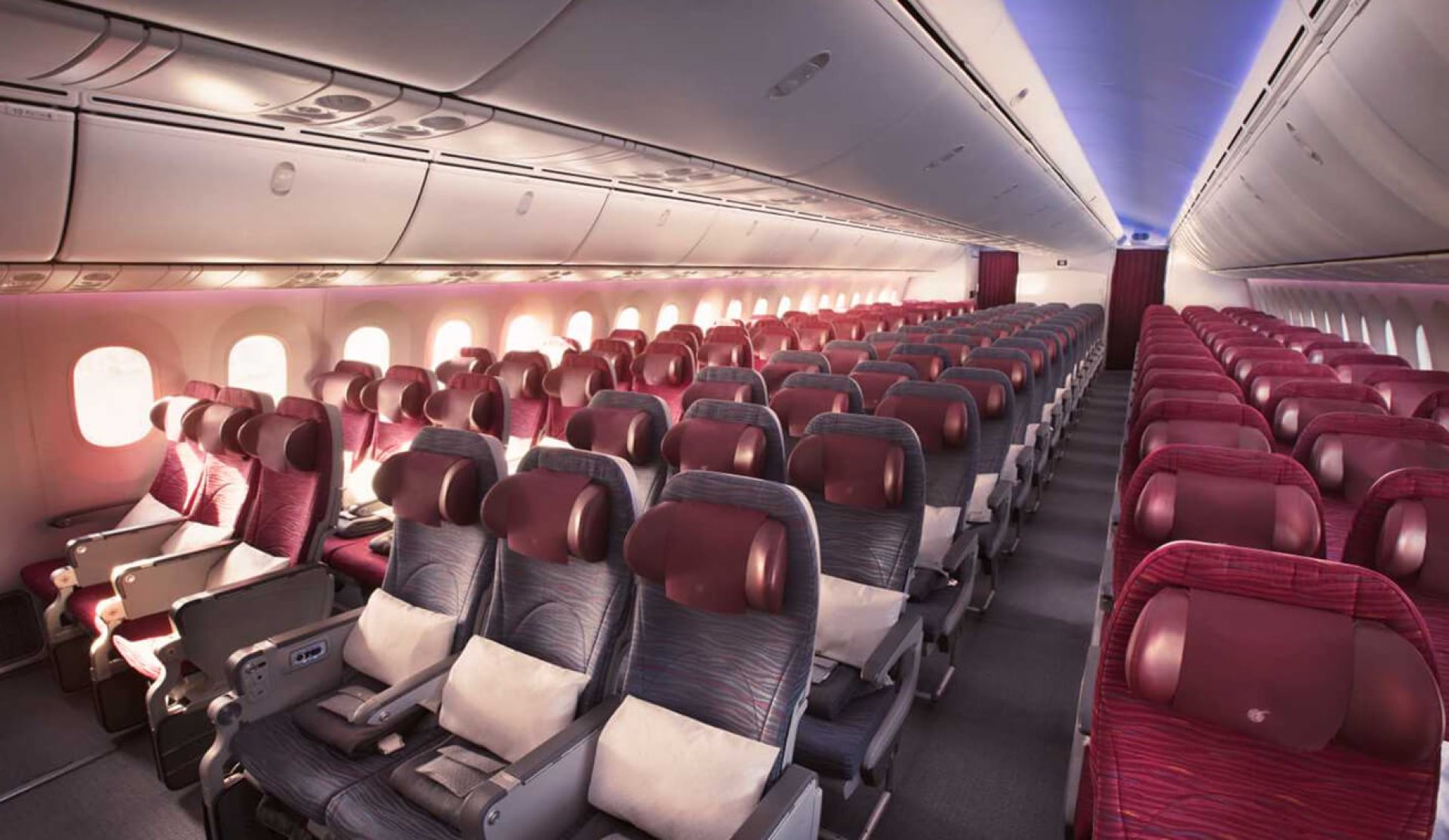 © Qatar Airways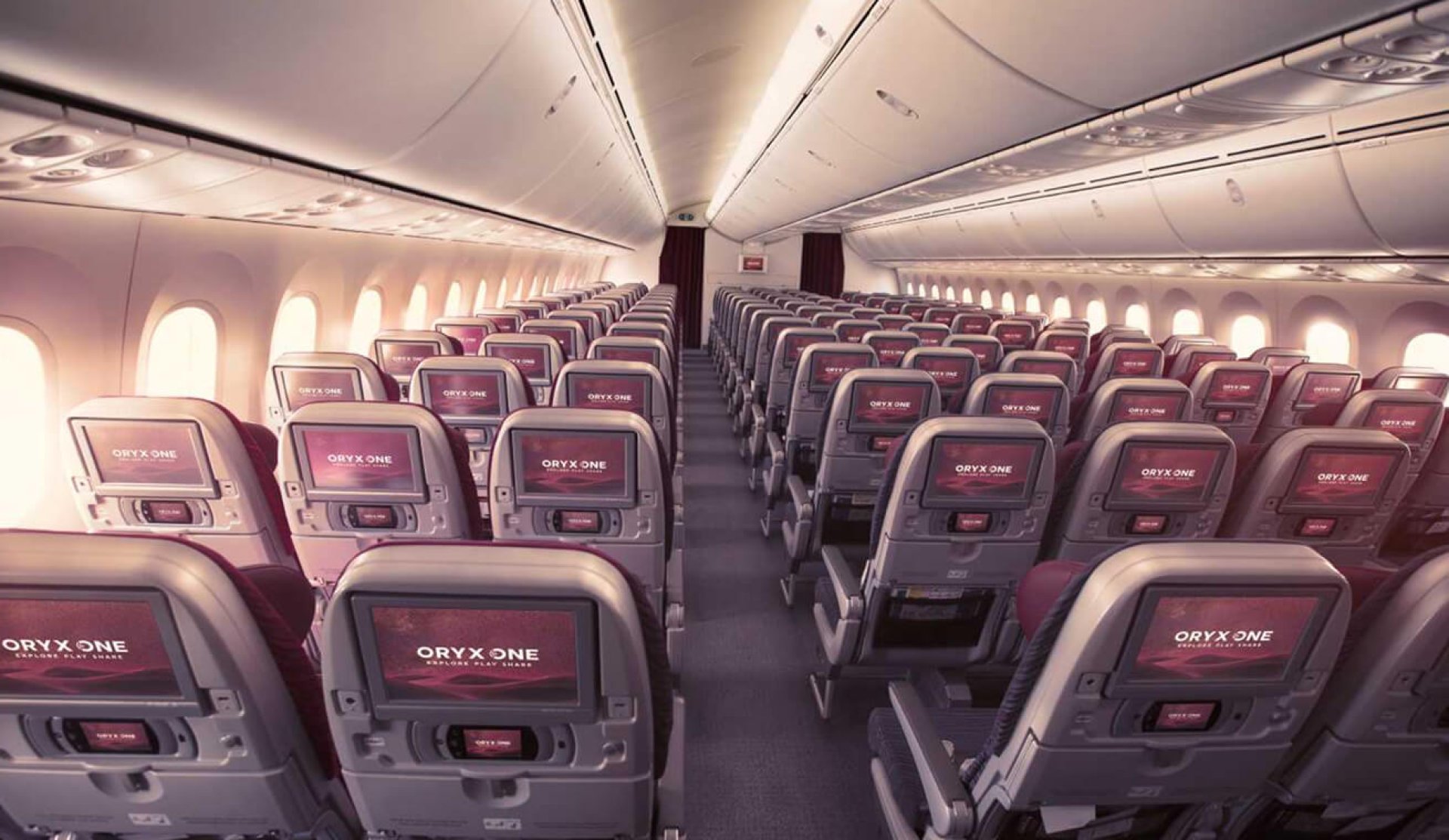 © Qatar Airways
Lyon becomes the third French destination served by Qatar Airways, as the airline already offers three daily flights to Paris-Charles de Gaulle and four weekly flights to Nice. Furthermore, Qatar Airways will launch a service between Doha and Toulouse starting on July 18th, with three weekly flights.
This expansion of Qatar Airways into France reflects the importance of economic, commercial, and cultural ties between France and the State of Qatar. Air connections to France are of great significance for the tourism sector, considering France's position as the world's top tourist destination and Lyon as the country's second most visited city. This new route will also enhance trade and import-export activities between the two countries.
© Yann Arnould / Flightreviews.net
The announcement of the Lyon route is part of Qatar Airways' numerous new destinations unveiled during ITB 2023, which took place in Berlin (Germany) last March. The airline revealed the addition of seven new destinations, the resumption of eleven routes, and an increase in frequency to a significant number of destinations.
This expansion demonstrates Qatar Airways' commitment to expanding its network and meeting the needs of travelers. Additionally, the resumption of previously visited destinations signifies a return to normalcy after the pandemic. While many other airlines significantly reduced their networks during this challenging period, Qatar Airways maintained regular service, albeit on a reduced scale, with 35 destinations compared to its pre-pandemic network of 180 destinations.
Among the newly added routes, we find Lyon and Toulouse (France), but also Chittagong (Bangladesh), Juba (South Sudan), Kinshasa (Democratic Republic of the Congo), Medan (Indonesia), and Trabzon (Turkey).
Qatar Airways is also resuming services to Beijing (China), Birmingham (UK), Buenos Aires (Argentina), Casablanca and Marrakech (Morocco), Davao (Philippines), Nice (France), Osaka and Tokyo-Haneda (Japan), Phnom Penh (Cambodia), and Ras Al-Khaimah (UAE).
Qatar Airways' new expansion into these cities showcases its commitment to strengthening global connectivity and positioning Doha as one of the world's major hubs.
The new Doha-Lyon route is part of Qatar Airways endeavor to create connections between Doha and the rest of the world while strengthening its presence in various cities. By focusing on lesser-served destinations, Qatar Airways contributes to revitalizing regions and less-connected countries, increasing connectivity options, and stimulating the local economy, as well as promoting commercial, economic, cultural, and touristic exchanges. In its pursuit of excellence, Qatar Airways aims to provide its customers with an unforgettable travel experience by maintaining exceptional quality standards.