During the Paris Air Show 2023, Airbus and Air France showcased their latest flagship aircraft for short and medium-haul flights, the Airbus A220-300. This cutting-edge aircraft serves as a replacement for Air France's older aircraft models. Additionally, it allows the airline to further elevate its position in the upscale market segment for short and medium-haul routes by introducing a brand-new cabin and a range of enhanced services. Flightreviews.net had the privilege of being invited on board to explore and examine all the distinctive features of this aircraft.
Originally introduced as the Bombardier CSeries, the Airbus A220 emerged at the Farnborough Air Show in 2008. Its primary objective was to expand Bombardier's CRJ (Canadair Regional Jets) range into the competitive market of 100+ seat aircraft, largely dominated by aviation giants Airbus and Boeing.
The CSeries program encompassed two variants: the CS100, accommodating 100 to 135 passengers, and the CS300, featuring 120 to 160 seats. After meticulous development and manufacturing, the CSeries successfully completed its inaugural flight on September 16, 2013, at Montreal-Mirabel Airport in Canada.
However, the program encountered significant financial setbacks and encountered substantial delivery delays, jeopardizing its future. Compounding these challenges was a controversial tax imposed by the United States, indirectly influenced by Boeing, in response to Delta Airlines' purchase of CS100 aircraft not built on US soil. This resulted in a steep 220% price increase for US airlines considering the aircraft.
In response to these circumstances, Airbus stepped in and acquired a 50.01% stake in the CSeries program, leaving Bombardier with 31% ownership and the Quebec Government with 19%. Airbus also strategically established a new Final Assembly Line (FAL) in Mobile, Alabama, USA, effectively circumventing the imposed tax by the US Government.
© Airbus SAS 2017 Pascal Pigeyre - Master Films
Consequently, the CS100 and CS300 were rebranded as the A220-100 and A220-300, respectively, reflecting Airbus' integration and commitment to the program. In February 2020, Bombardier divested its remaining stake to Airbus, granting the European manufacturer a 75% majority ownership, while the Quebec Government retained a 25% interest.
Since then, the A220 has achieved remarkable success, with over 750 aircraft sold to more than 15 airlines worldwide. This resilient evolution showcases the A220's enduring appeal and demonstrates its ability to thrive in the competitive aviation market.
Over the years, Airbus has been developing aircraft that are increasingly environmentally friendly, quiet, and cost-effective. Since the early 2000s, Airbus has been at the forefront of launching ambitious programs that excel in meeting these three criteria. In 2006, the successful launch of the A350 marked a significant milestone, and in 2010, Airbus announced a re-engined version of its A320, the A320neo. However, Airbus had primarily focused on the sector of aircraft with 150 seats or more.
With the introduction of the A220, Airbus has ventured into a new market segment for aircraft with fewer than 150 seats. The A220 consumes 20% less fuel than the A318 and A319 it replaces while emitting 20% less CO2. Furthermore, the A220 is renowned for its exceptional quietness, with noise emissions reduced by 34% compared to its predecessors. This not only enhances the comfort of passengers but also minimizes noise disturbance for residents living near airports.
© AIRBUS
These advancements have been made possible through the use of lightweight composite materials, such as carbon, and the utilization of lighter cabin components. Additionally, the development of new Pratt & Whitney engines has played a crucial role in achieving these remarkable improvements.
In July 2019, Air France announced "the group's ambition to simplify and harmonize its fleet, but also to improve its competitiveness with more modern, higher-performance aircraft whose environmental footprint is greatly reduced". The French national airline has thus announced an order for 60 Airbus A220-300s, with an option for a further 30 aircraft, which will gradually replace the Airbus A318 and A319 of the current Air France fleet. Received in 1997, these aircraft from the A320 family no longer correspond to the new ecological charter introduced by Air France in 2019.
© Yann Arnould / Flightreviews.net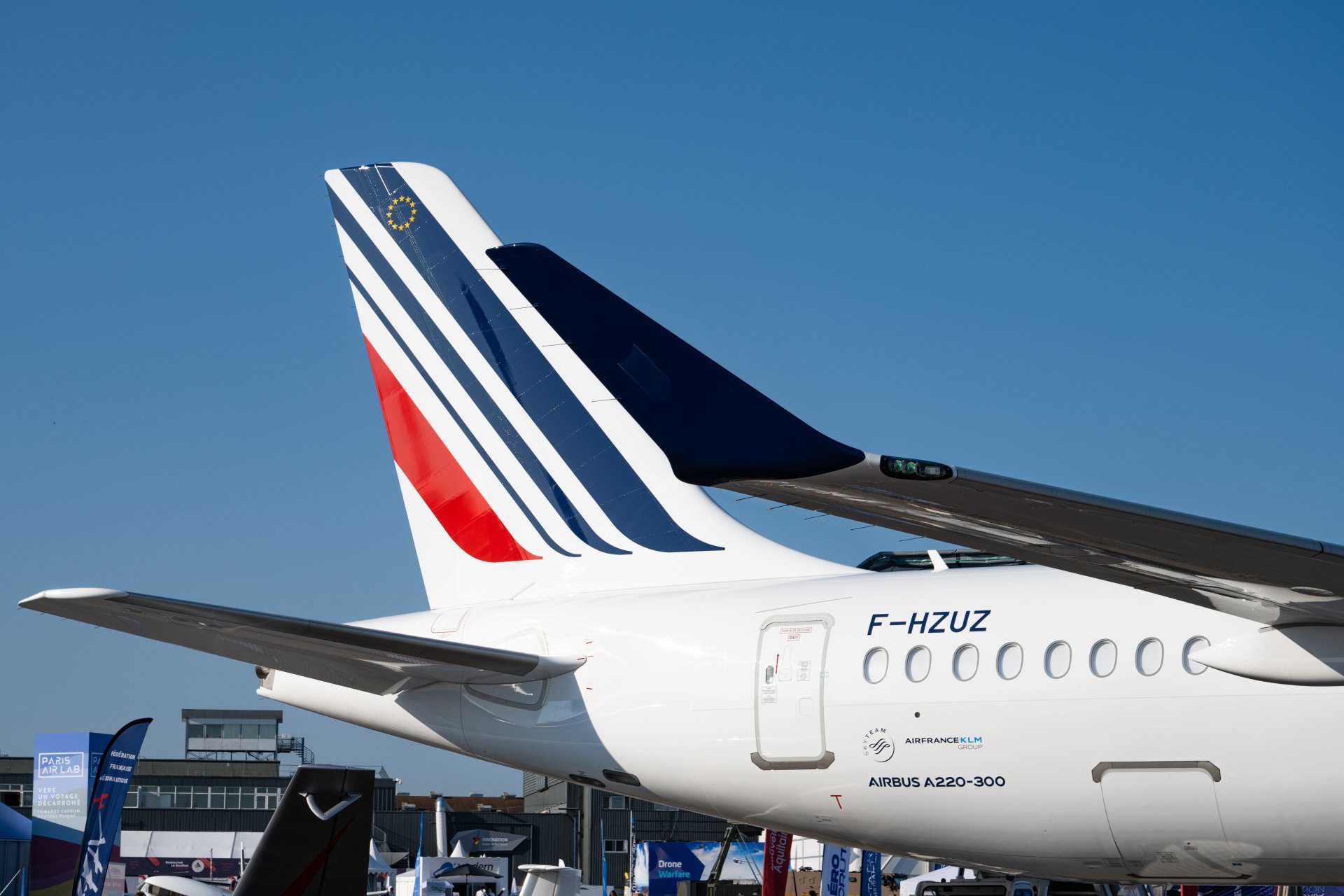 © Yann Arnould / Flightreviews.net
© Yann Arnould / Flightreviews.net
With the arrival of the A220, Air France aims to redesign the passenger experience on its short- and medium-haul flights. It begins with the introduction of an entirely new short- and medium-haul cabin.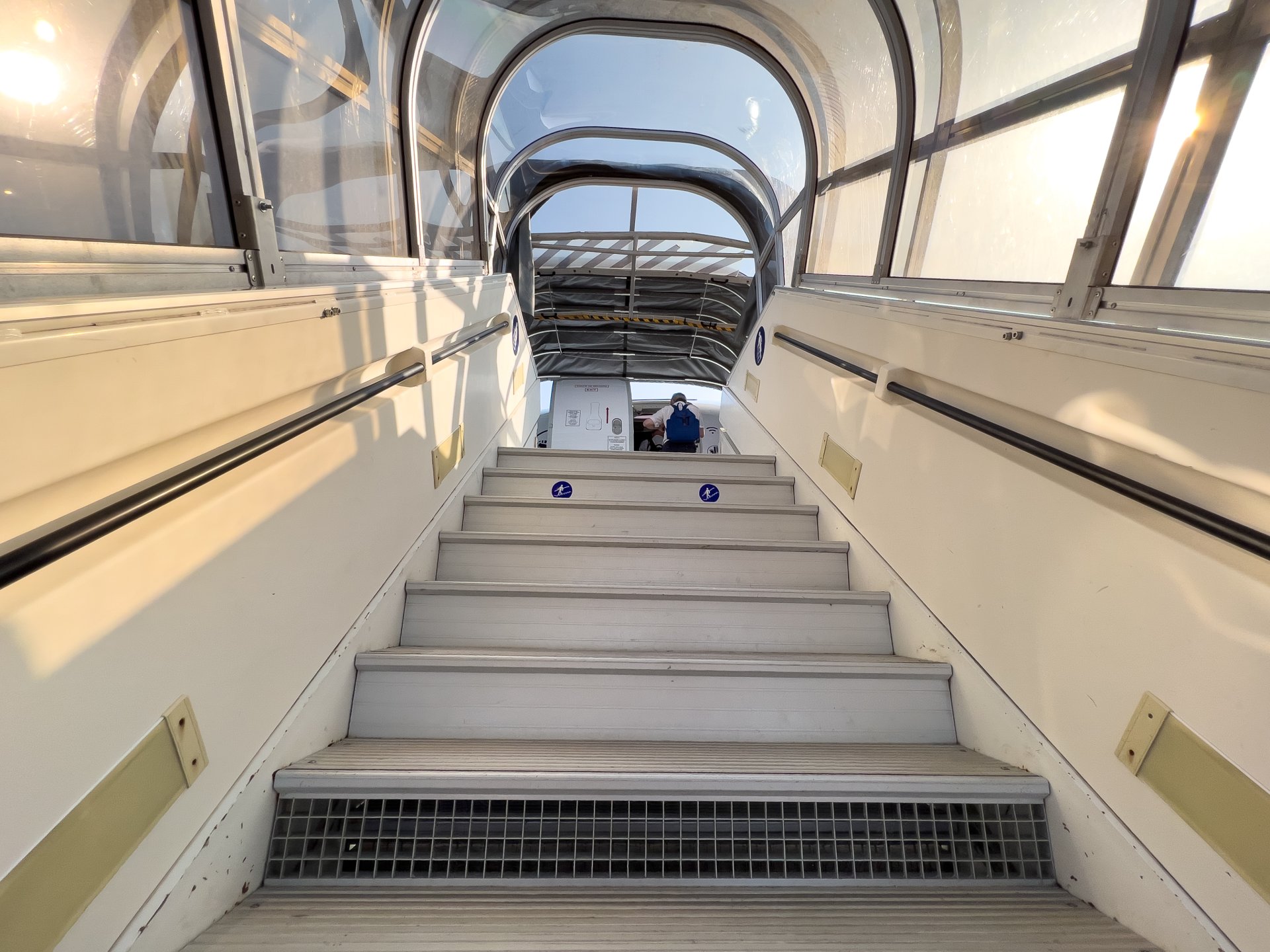 © Yann Arnould / Flightreviews.net
© Yann Arnould / Flightreviews.net
Firstly, the Air France A220 features 148 seats in a 2-3 configuration, allowing 80% of passengers to have a window or aisle seat. The seats provided by Collins Aerospace are the widest in the market for a single-aisle aircraft, with a width of 48 cm. The seats also have a recline of 118 degrees and a seat pitch of 76.2 cm. They are covered in leather, equipped with adjustable headrests, and have ergonomic foam for optimal comfort throughout the flight.
© Yann Arnould / Flightreviews.net
© Yann Arnould / Flightreviews.net
© Yann Arnould / Flightreviews.net
© Yann Arnould / Flightreviews.net
The windows, which are 50% larger than those on the A320 family, provide excellent brightness throughout the cabin. In addition, there is an adaptive lighting system that offers various lighting settings suitable for each phase of the flight.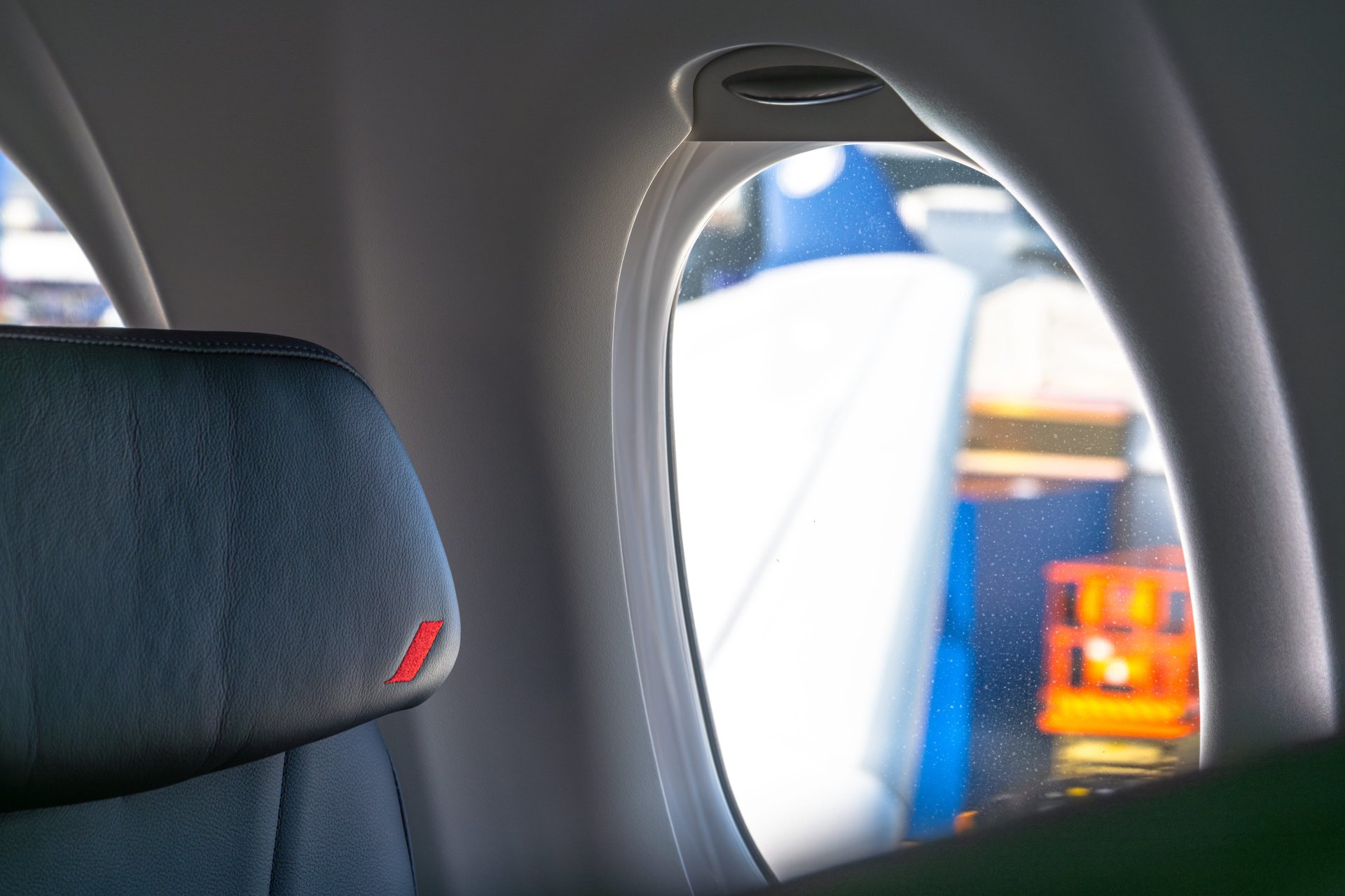 © Yann Arnould / Flightreviews.net
© Yann Arnould / Flightreviews.net
In terms of finishing, the A220 boasts a truly beautiful and elegant cabin, which earned it the Gold Prize in the "Product Design/Transport Design" category at the 36th edition of the Grand Prix Stratégies du Design 2022. It features Air France's signature colors, including the characteristic blue, contrasting white for brightness, and a touch of red. The red accent, representing the Air France brand, is embroidered on each seat and displayed on the front and rear cabin walls.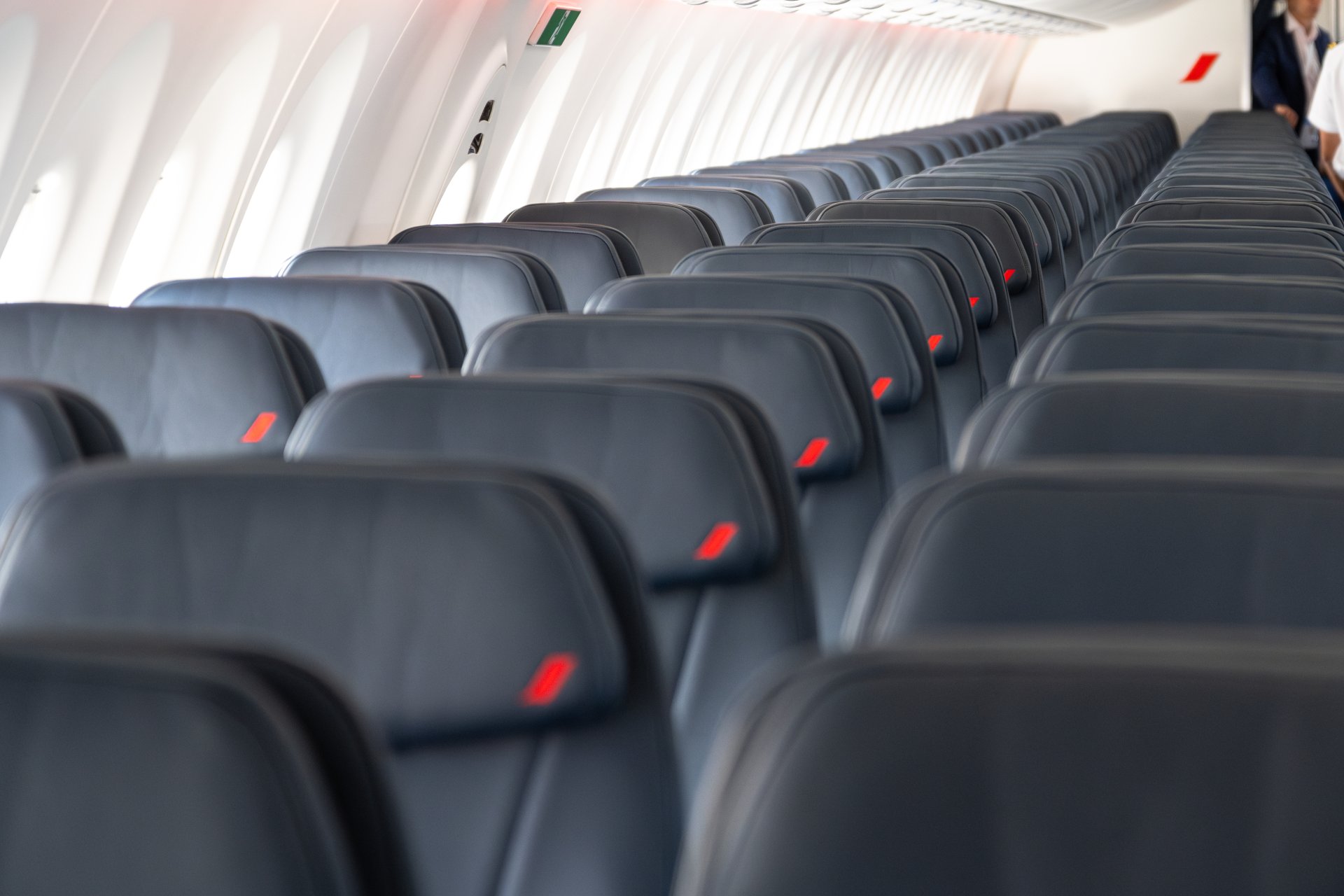 © Yann Arnould / Flightreviews.net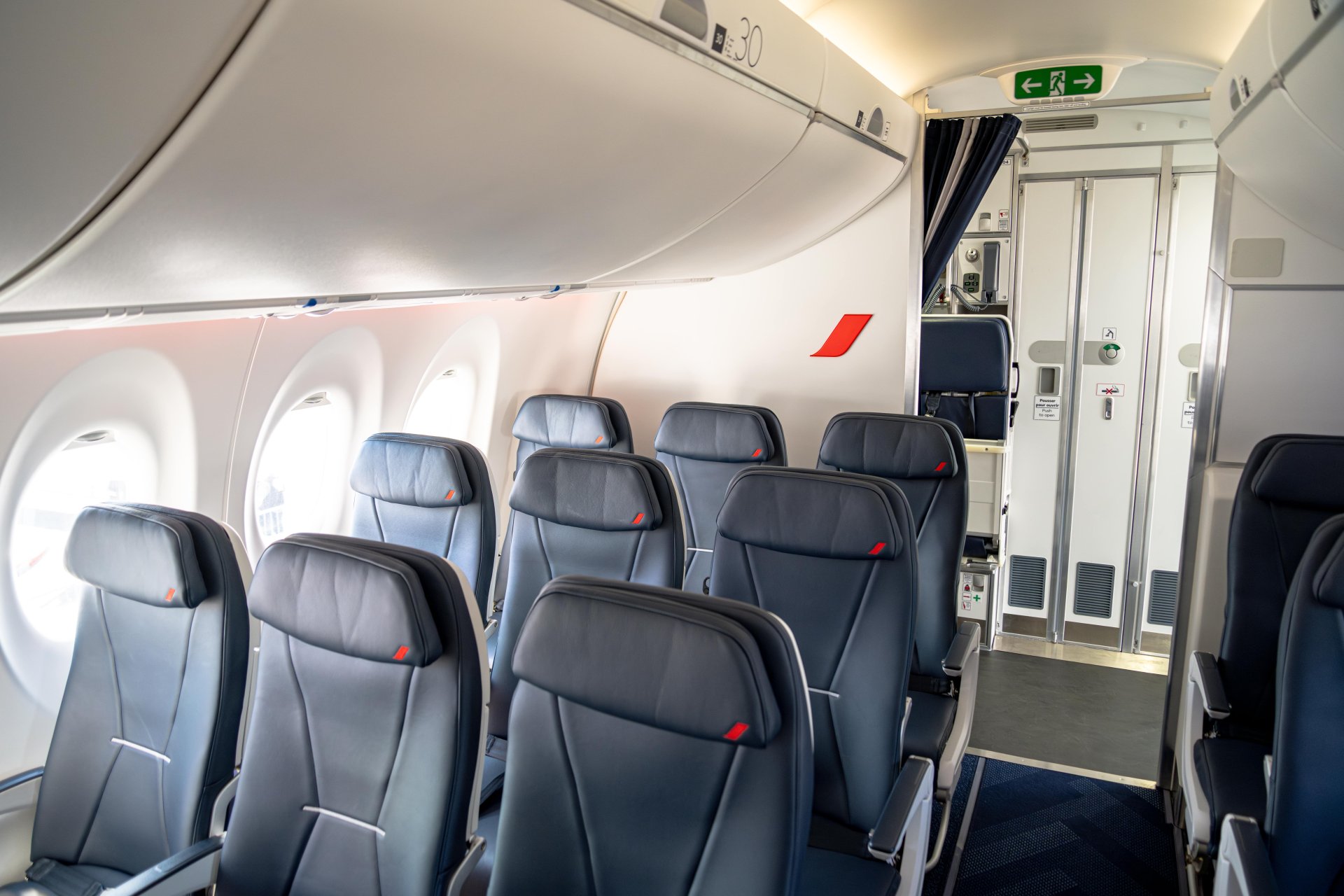 © Yann Arnould / Flightreviews.net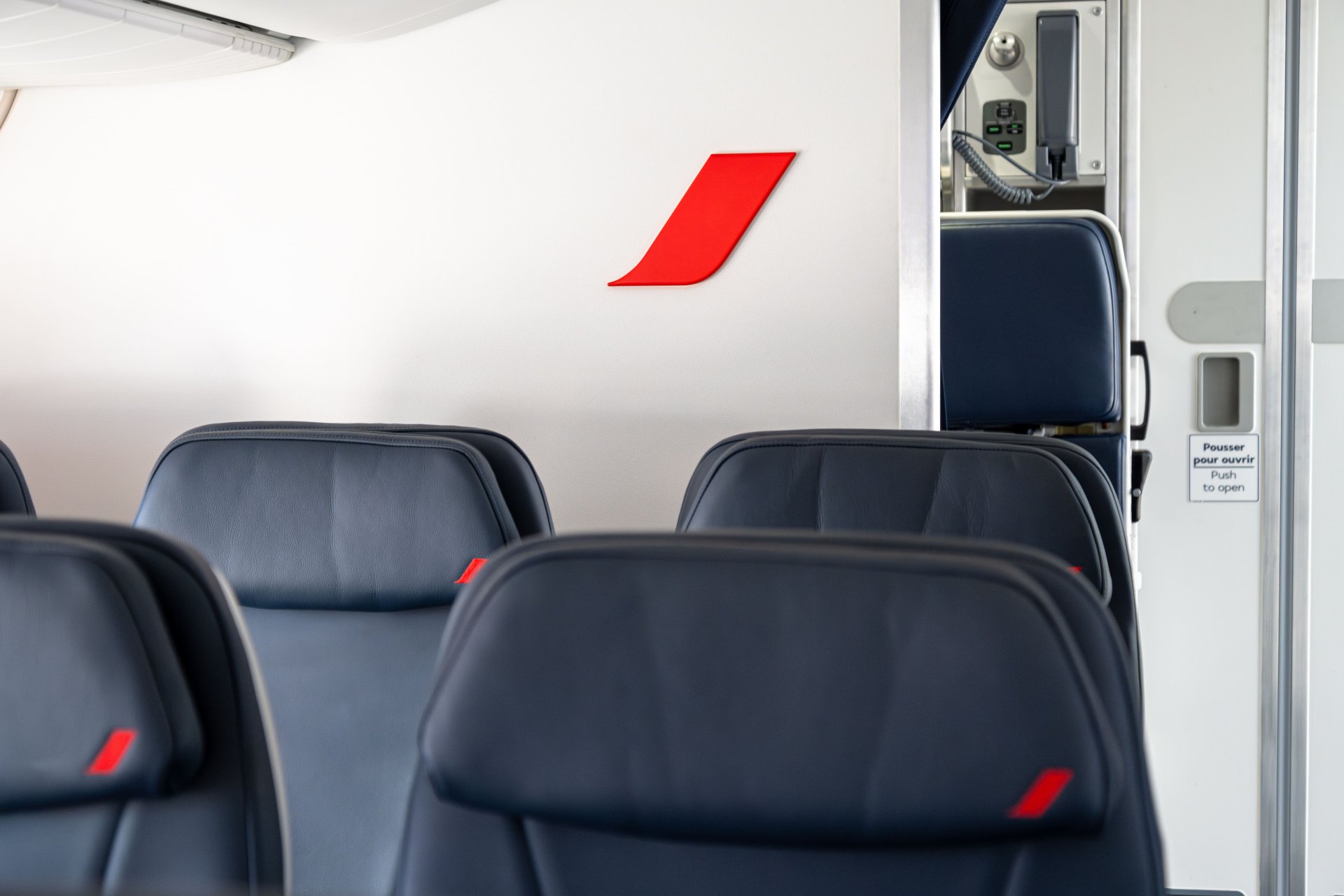 © Yann Arnould / Flightreviews.net
The cabin's floor carpeting plays a decisive role in the design by reinterpreting the traditional chevron pattern, symbolizing the iconic Haussmannian style of Parisian apartments.
© Yann Arnould / Flightreviews.net
The cabin's beauty is evident in every detail, such as the seatbelt buckle.
© Yann Arnould / Flightreviews.net
The aircraft's lavatories also feature the blue/white design.
© Yann Arnould / Flightreviews.net
In terms of amenities, each passenger in this cabin is provided with a standard-sized tray table, a cup holder, personal USB-A and USB-C ports, and an integrated smartphone or tablet holder on the seat. The seat pocket contains a safety card and a sickness bag, with magazines now being digitized within the Air France Play app.
© Yann Arnould / Flightreviews.net
© Yann Arnould / Flightreviews.net
© Yann Arnould / Flightreviews.net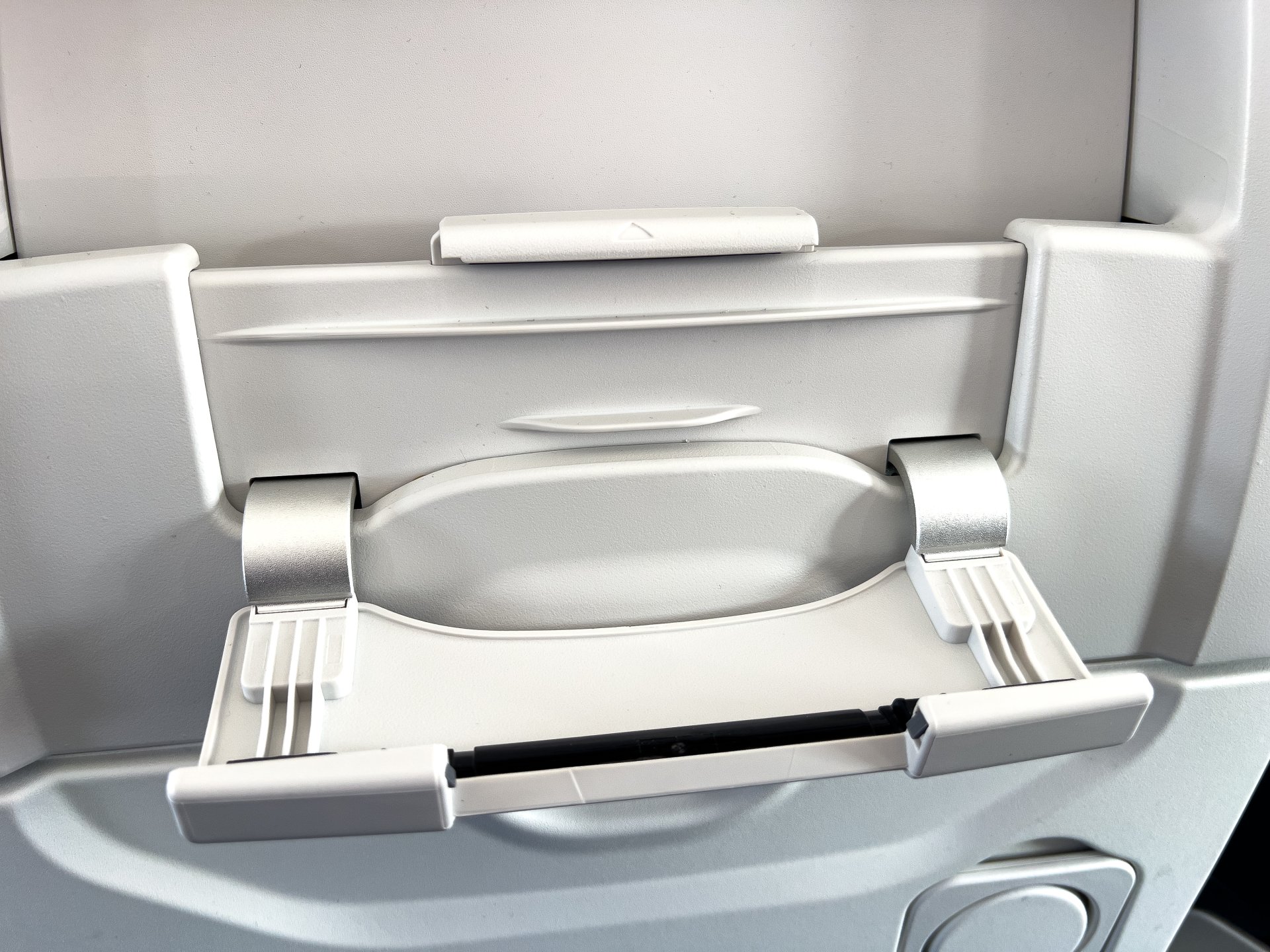 © Yann Arnould / Flightreviews.net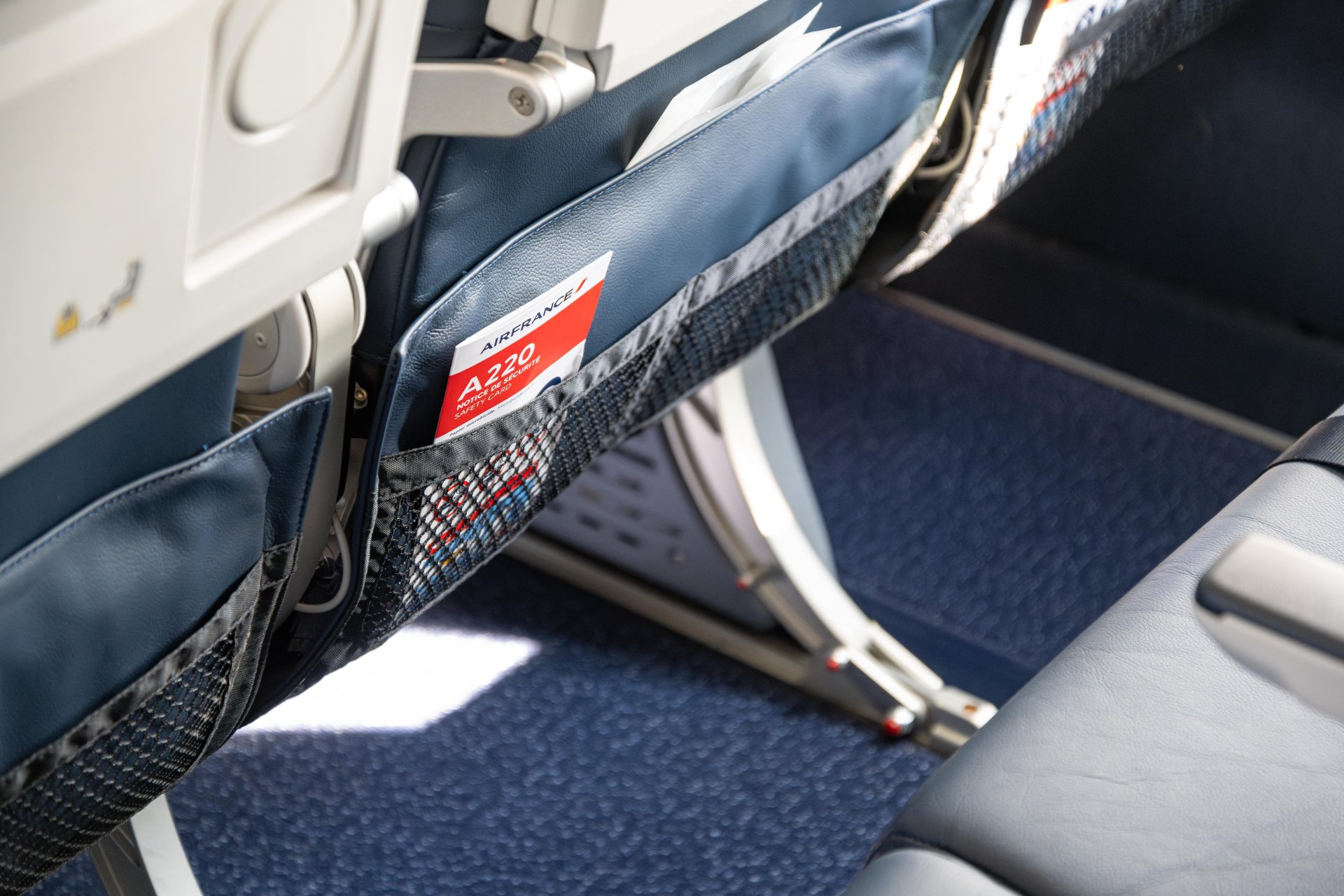 © Yann Arnould / Flightreviews.net
This cabin can include up to 8 rows of Business Class seats. It is known as European Business Class, where the seat is the same as in Economy Class with an unoccupied seat beside it. This Business Class cabin is separated from the Economy Class cabin by a movable curtain, rather than a physical wall.
© Yann Arnould / Flightreviews.net
In terms of connectivity, although the A220-300s of Air France do not have built-in individual entertainment systems, they are equipped with onboard Wi-Fi. Passengers can connect to three different internet packages offered within Air France's connectivity service, Air France Connect. One of these packages, which is free, allows passengers to stay connected during their journey by sending and receiving messages.
Flightreviews.net already hosts several Air France Airbus A220-300 Flight reviews. Don't hesitate to take a look if you're curious to find out more about this aircraft.
To round off the visit, a tour of the futuristic cockpit of the Airbus A220.
© Yann Arnould / Flightreviews.net
© Yann Arnould / Flightreviews.net
© Yann Arnould / Flightreviews.net
The Airbus A220 is just the first step in restructuring the passenger experience within Air France. This new flagship, of which the French carrier already owns 25 aircraft, will establish itself as the reference for short- and medium-haul flights at Air France, alongside the Airbus A320 and A321. However, it remains to be seen if the airline plans to replace its aging A320ceo and A321ceo aircraft, some of which are over 25 years old. Possible replacements could include the A320neo and A321neo (aircraft that have been ordered by KLM and Transavia, subsidiaries of Air France), or perhaps a new extended version of the A220, the Airbus A220-500. Only time will tell.
© Yann Arnould / Flightreviews.net
In terms of long-haul flights, Air France is also continuing to renew its fleet. After the retirement of its Airbus A340 and A380 aircraft, the French carrier seems to be focusing on the Airbus A350-900, with the delivery of its 21st aircraft expected soon. This new aircraft will introduce a new cabin, including a new Business Class seat developed for Air France by STELIA Aerospace, which was recently announced at the Aircraft Interiors Expo 2023. Air France is also in the process of retrofitting its Boeing 777-300ER fleet. Currently, 10 triple-7 aircraft are flying with the new 48J cabin, featuring 48 private Business Class suites.
Cabin upgrades and fleet renewals are only part of Air France's ambition to move upscale. The airline also invests continuously in improving various services. For example, it recently opened its new lounge for short- and medium-haul flights in the Schengen area at Terminal 2F of Paris-Charles de Gaulle Airport. It also revamped its lounge at Munich Airport and inaugurated a lounge in San Francisco. By the way, Air France's First Class lounge is renowned as one of the world's top lounge experiences.
Air France's pursuit of elevating its offerings and enhancing the passenger experience is evident through its fleet renewal and investment in various services. The introduction of the Airbus A220 as the new flagship for short- and medium-haul flights showcases the airline's commitment to providing a superior travel experience. The A220's advanced features, such as fuel efficiency and reduced noise emissions, align with Air France's focus on sustainability and passenger comfort.
Moreover, Air France's fleet renewal extends to its long-haul operations, with the acquisition of new aircraft and the retrofitting of older ones. In addition, not only does Air France invest in cabin enhancements, but it also continuously improves its services. The opening of new lounges, for instance, reflects the airline's commitment to providing a premium travel experience from beginning to end.
Many thanks again to Airbus and Air France for this opportunity to visit the A220, and especially to the Air France crew for their welcome and kindness.