On this October 7, 2023, the French national airline, Air France, celebrates its 90 years of existence. Let's delve into how Air France has evolved over nearly a century to become one of the world's most renowned airlines.
Founded during the Great Depression, Air France is the result of the merger of several major French airlines: Air Orient, Air Union, Les Lignes Farman, CIDNA (Compagnie Internationale de Navigation Aérienne), and later, Aéropostale. On October 7, 1933, at Le Bourget Airport in Paris – the country's primary airport at the time –, the new airline, Air France, was introduced to the public. France finally had a national carrier.
Official inauguration of Air France by Pierre Cot, French Air Minister (© Air France)
At its inception, Air France required restructuring into a cohesive entity. It organized its network around three hubs: Marseille for the Mediterranean and the East, Toulouse for South America, and Paris-Le Bourget for connections to major European cities. The latter airport quickly became a major hub for the new airline, which inherited a vast network stretching from Europe to Africa, across South America and Southeast Asia.
Until the eve of World War II, Air France expanded considerably, establishing new routes that extended its network to over 48,000 kilometers, with passenger numbers surpassing 100,000 in 1938, twice as many as at its inception in 1933. Air France became one of the largest airlines in Europe during this time.
However, the aircraft operated by Air France during this era were far from the most comfortable. They were noisy, prone to turbulence, and carried the distinct scent of burnt kerosene. The cabins were spartan and lacked insulation.
Steward of a Dewoitine 338 in 1937 (© Air France)
On September 1, 1939, World War II erupted, freezing the operations of the new airline. It took until January 1, 1946, to see Air France flying under its own name once again. In just a few years, Air France regained its place among the major national carriers.
Thanks to the boom in aviation during the war, the French airline's fleet was renewed. Air France acquired state-of-the-art American aircraft such as the Douglas DC-3 and DC-4, as well as the Lockheed Constellation. These new aircraft allowed for more passengers to be transported farther and faster, prompting Air France to restructure its network, with a particular emphasis on long-haul flights, including the Paris-New York route inaugurated in July 1946.
Lockheed L-1049 Super Constellation Air France (© kitchener.lord / Flickr)
With these new aircraft, Air France could now cross the North Atlantic without stops. Moreover, more spacious cabins allowed for larger seats, onboard kitchens, and even bunks. Champagne receptions, gourmet meals prepared by top French chefs, and direct flights became Air France's hallmark. One of the notable routes benefiting from these innovations was the Paris-New York route, commercially known as the "Parisien Spécial". It was a prestige route served by the Lockheed Super Constellation and primarily frequented by a high-end clientele.
© Air France
In 1947, more than 400,000 passengers traveled on Air France.
In the mid-1950s, Air France was one of the first European airlines to order jets in large numbers. With the introduction of jet aircraft such as the Boeing 707 and the Caravelle, the flying experience improved significantly. These larger, faster, and quieter aircraft made air travel the primary mode of crossing oceans. For instance, a Paris-New York flight on a Boeing 707 took eight hours, compared to fourteen hours on previous propeller-driven aircraft. With more space, aircraft cabins became veritable lounges where actors and businessmen mingled between the world's major cities.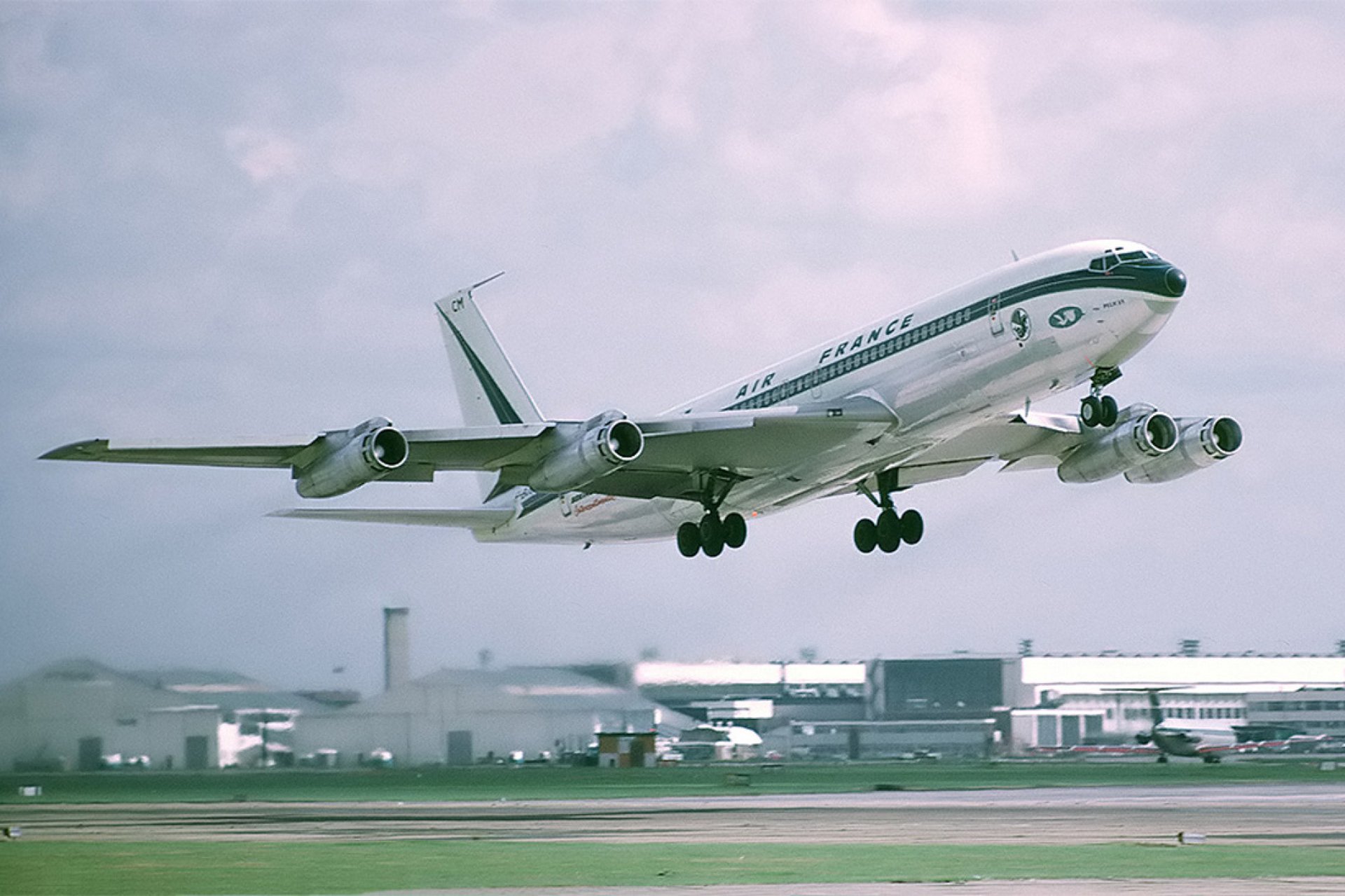 Boeing 707 Air France (© Richard Vandervord / Wikimedia)
Despite its upscale image, air travel was no longer a luxury reserved for the privileged few in the 1960s. Air France lowered its prices and contributed to the democratization of air travel.
Additionally, to retain its clientele, Air France became the world's first airline to introduce frequent flyer programs, offering benefits to frequent passengers. At the same time, Air France introduced in-flight movies on long-haul flights.
In 1961, to accommodate the growing demand for travelers and the new operational methods required by jet aircraft, the Orly Sud terminal was inaugurated. Orly represented modernity and French luxury at that time.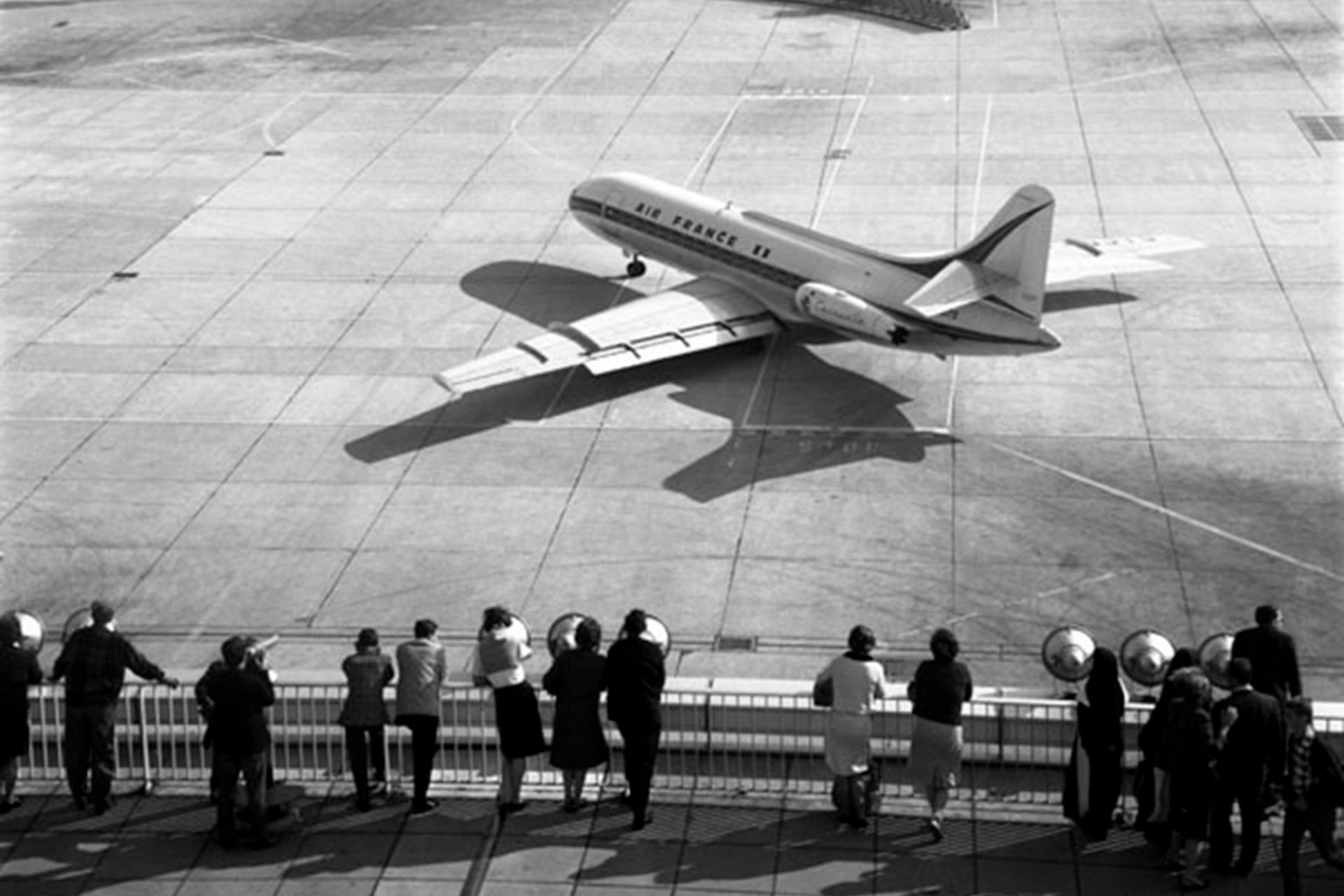 Air France Caravelle, seen from the terrace of the Orly Sud terminal (© Groupe ADP)
In 1963, Air France transported more than 3.4 million passengers.
During the 1970s, Air France's fleet underwent a significant transformation. Several new aircraft joined Air France's fleet: the Boeing 747, the Airbus A300, and the Concorde.
The Boeing 747, the largest commercial aircraft at that time, could carry three times more passengers than the previous generation of aircraft.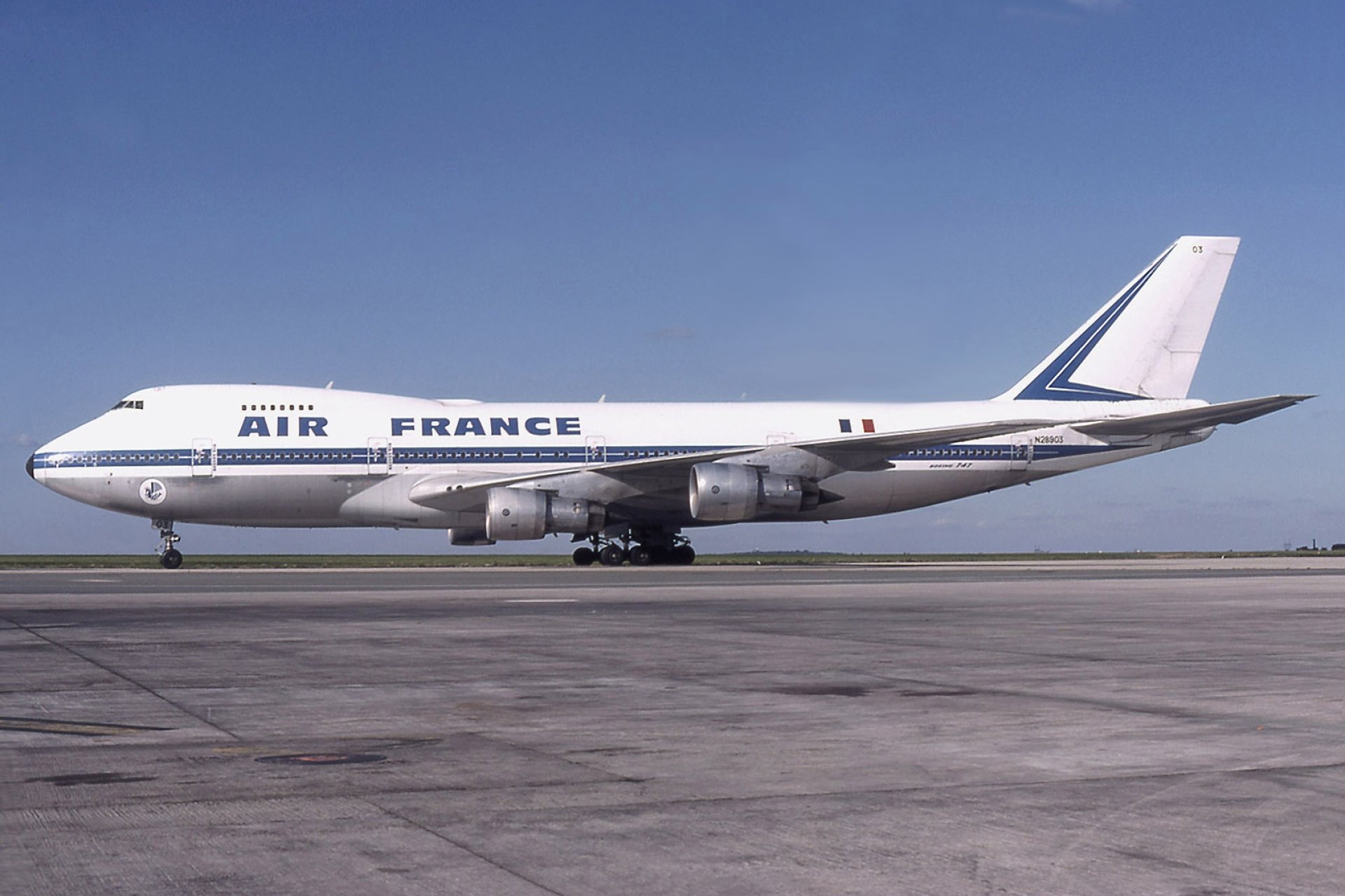 Boeing 747-100 Air France (© Michel Gilliand / Wikimedia)
The arrival of the Jumbo Jet allowed Air France to modernize its cabins significantly. From Tourist class to First Class, comfort was greatly improved, along with available space for passengers. The upper deck of the 747 was transformed into a lounge with a bar, and bartenders served passengers as in a fine Parisian restaurant. Air France introduced a third class, Business Class, which quickly became popular among business travelers.
First class on board an Air France Boeing 747 (© Air France / Ohlalair)
Lounge on the upper deck of an Air France Boeing 747 (© Air France / Ohlalair)
Tourist class on board an Air France Boeing 747 (© Air France / Ohlalair)
Due to congestion at Orly Airport, a new airport was needed. After eight years of building, Paris-Charles de Gaulle Airport was inaugurated in 1974. It became Air France's airport of the future, where the airline established its base at Terminal 1.
Terminal 1 at Paris-Charles de Gaulle airport (© Air France)
In 1976, the Concorde, the world's fastest aircraft, joined Air France's fleet. The supersonic jet connected Paris to New York in just 3 hours and 30 minutes. Onboard, selected chefs prepared the finest meals and selected the best wines and champagnes.
Concorde Air France (© Air France)
During the 1980s, Air France decided to revitalize its European flights, an area where the airline had been relatively discreet in recent years. It established its new medium-haul base at Terminal 2 of CDG and took delivery of suitable aircraft, initially Boeing 737s and later the first Airbus A320 aircraft.
Boeing 737-200 Air France (© Eduard Marmet / Wikimedia)
In 1983, Air France transported nearly 12 million passengers, an increase of 8 million passengers compared to 1963.
Air France positioned itself among the world's top airlines. To stay up-to-date, Air France made the passenger experience a priority. À la carte meals were now offered in the premium classes, while smoking lounges and bars were installed on aircraft, and full-flat seats were introduced in the First Class of the first Boeing 777s, which arrived in 1998.
During the late 1990s, Terminal 2F at Charles de Gaulle Airport was inaugurated. This terminal, designed with innovative glass architecture, became the main platform for Air France's domestic and Schengen flights and is still in use today.
Aerial view of terminal 2F at Paris-Charles de Gaulle Airport (© Jean-Marc Jouanneaux / Groupe ADP)
The early 2000s saw the arrival of new modern long-haul aircraft in the fleet. The Concorde retired, making way for the Airbus A330 and A340. The A380, the world's new largest civil aircraft, joined the fleet in 2009.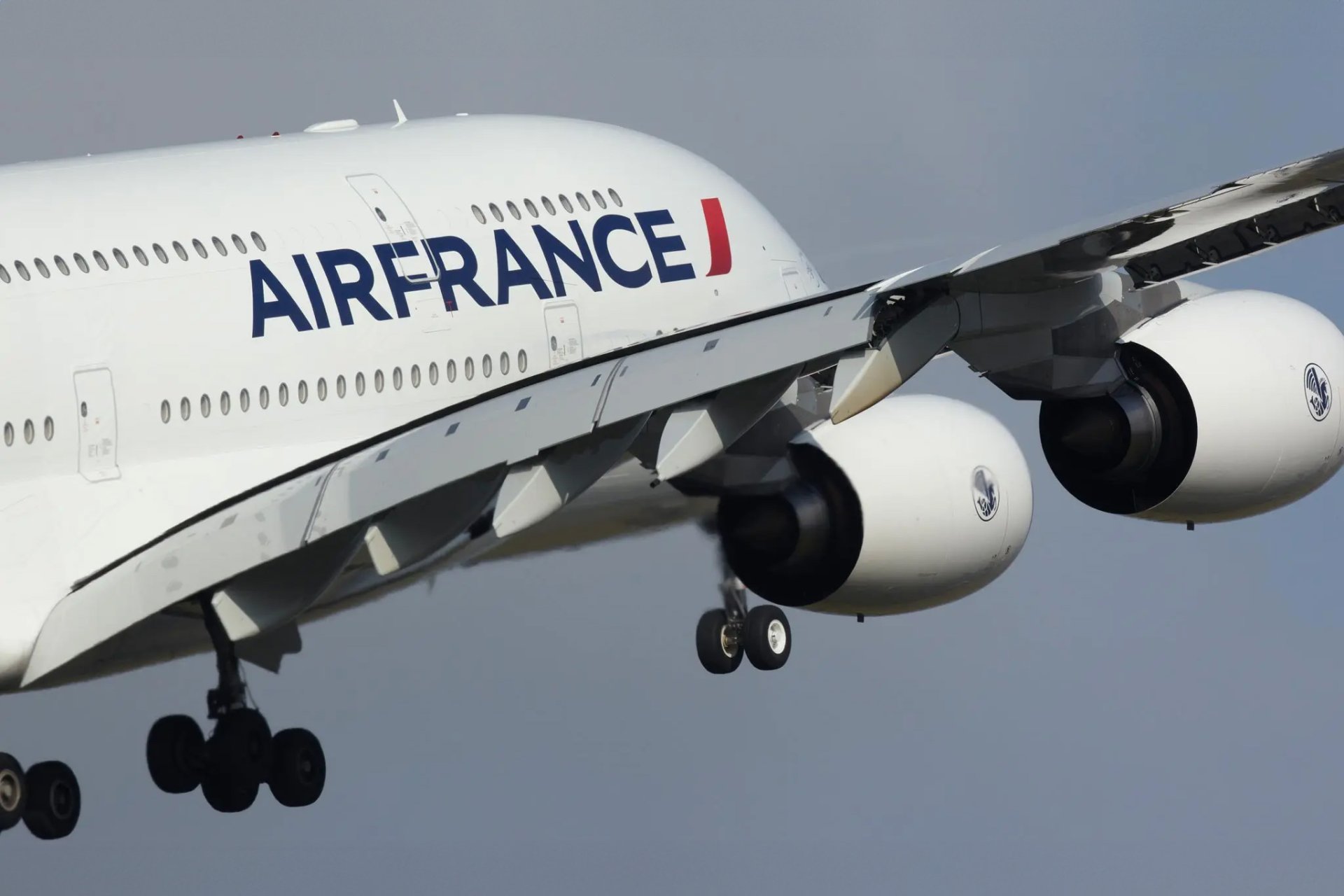 Airbus A380 Air France (© Air France)
The short and medium-haul fleet was also upgraded. The last Boeing 737s left the fleet in 2007 and were gradually replaced by a modern fleet of Airbus A318, A319, A320, and A321 aircraft.
Airbus A320 Air France (© Airwim / Wikimedia)
With the introduction of new aircraft, Air France provided passengers with an increasing number of services, including individual entertainment systems.
Over the years, Air France modernized its cabins, particularly in its La Première First Class on long-haul flights. Moreover, onboard service became more sophisticated, with meals in all classes prepared by chefs.
La Première First Class on board Air France Boeing 777-300ERs (© Air France)
In 2009, Air France introduced a new class of travel, positioned between Business and Economy: Premium Economy.
A new terminal served as a hub for Air France's operations outside of Schengen countries: Terminal 2E at CDG. The main K concourse was inaugurated in 2003, followed by the L concourse in 2007, capable of accommodating the giant Airbus A380. The M concourse was inaugurated in 2012. With the introduction of this last satellite, Air France concentrated its operations solely on Terminals 2E and 2F at Roissy Airport.
Aerial view of terminal 2E at Paris-Charles de Gaulle Airport (© Alain Leduc / Groupe ADP)
Terminal 2G, dedicated primarily to Hop, Air France's regional subsidiary, was the latest addition. It was inaugurated in 2016.
Meanwhile, Air France's membership in the SkyTeam alliance since 2000, the establishment of the Air France-KLM Group in 2004, and the joint venture with Delta Air Lines and Alitalia in 2008 allowed Air France to expand its network further centered around its partner hubs, representing one of the most advanced models of cooperation among airlines.
In 2008, Air France and KLM carried more than 74 million passengers.
Today, Air France continues to prioritize service quality while modernizing its fleet in pursuit of carbon emission reduction. In 2016, it received its first Boeing 787s, equipped with new seats. These were joined in 2019 by Air France's latest flagship long-haul aircraft, the Airbus A350, as the airline phased out its Airbus A340s and A380s in response to the Covid-19 crisis.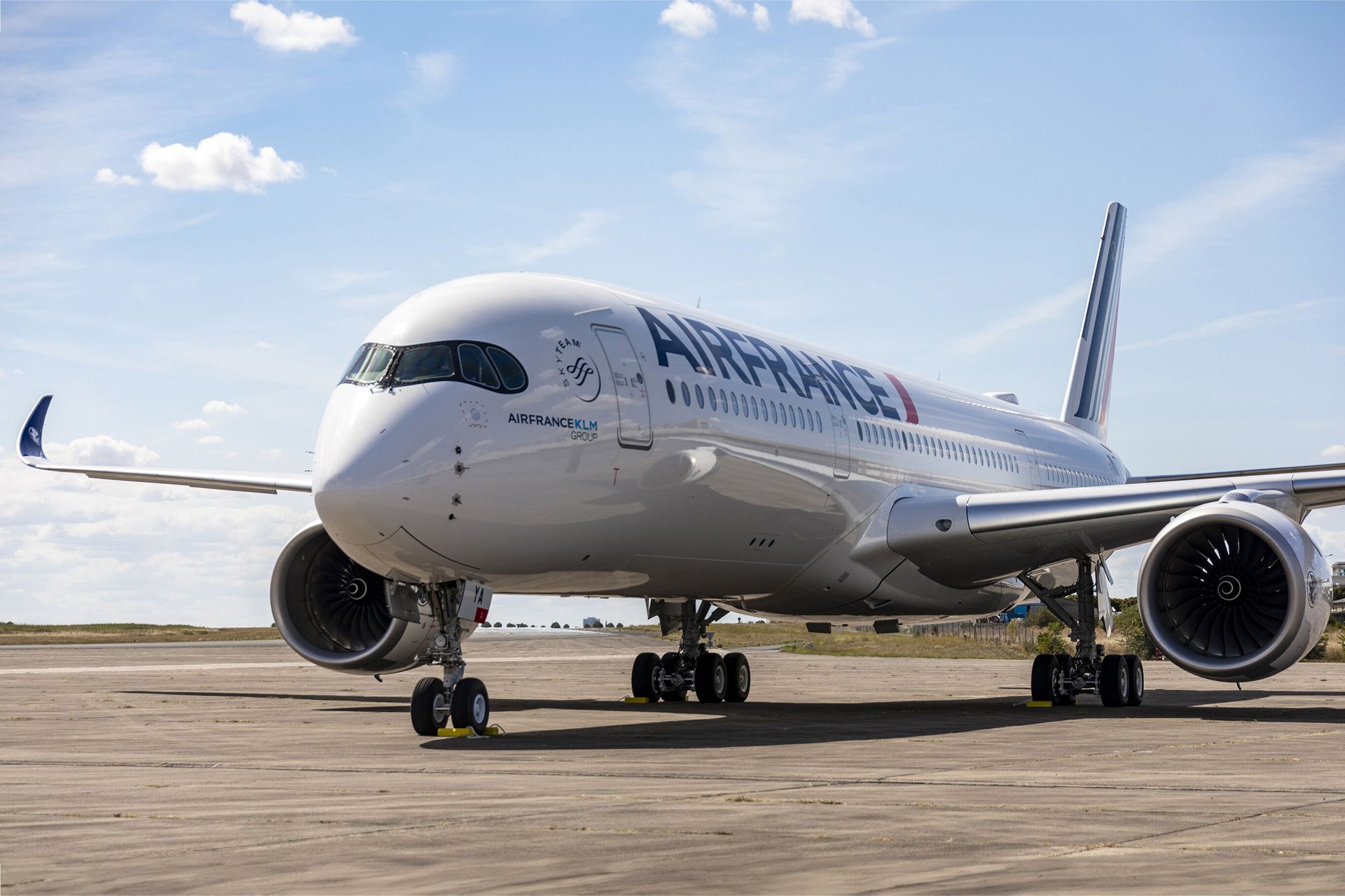 Airbus A350 Air France (© Air France)
For short- and medium-haul flights, Air France recently opted for the Airbus A220 to modernize its aging fleet of A318s, A319s, A320s, and A321s. Like the A350, the A220's cabin features the latest technology, comfort, and innovation, all wrapped in an increasingly elegant design. Flightreviews.net had the opportunity to visit this aircraft during the 2023 Paris Air Show; feel free to consult our article on the subject.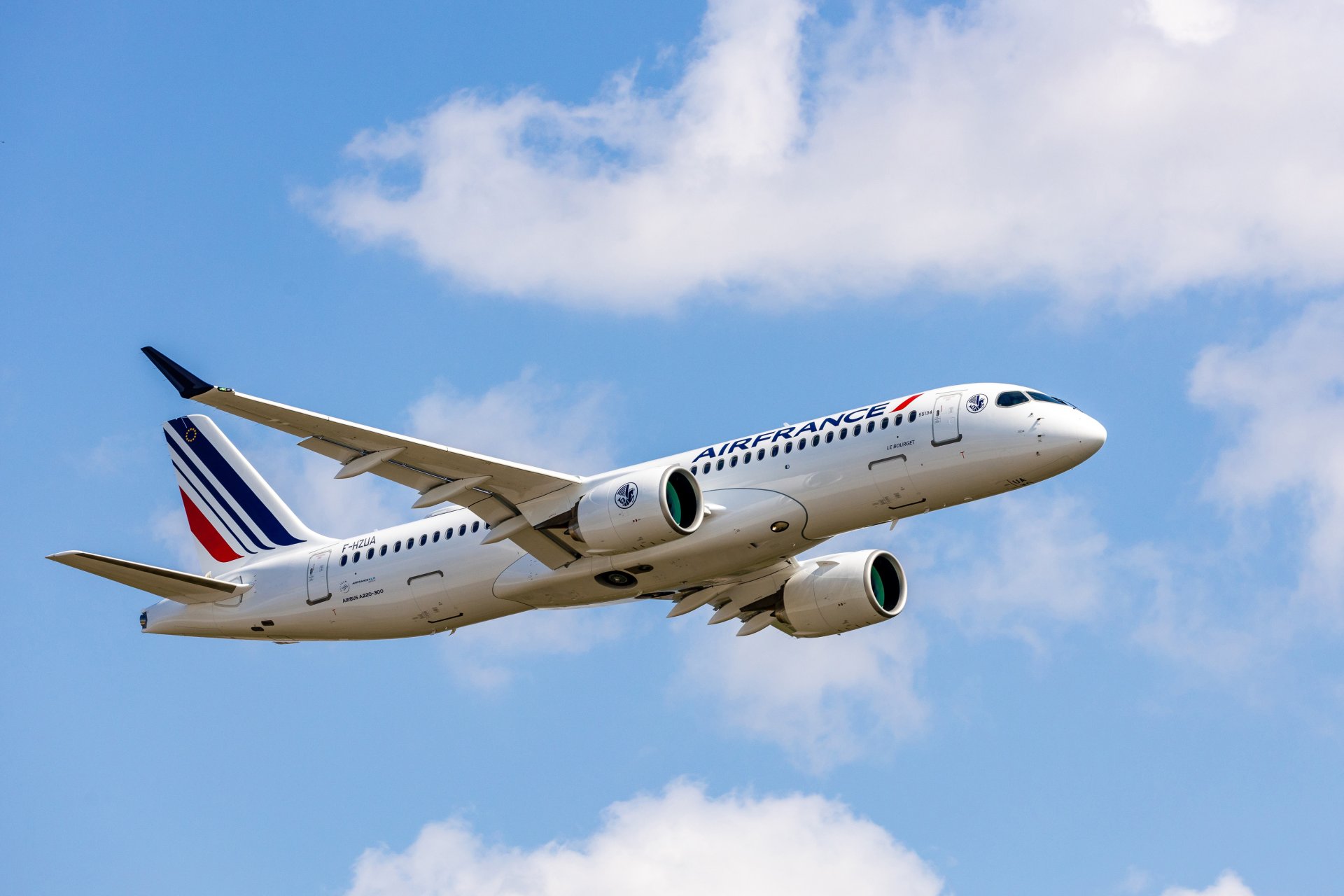 Airbus A220 Air France (© Air France)
Air France also continues to move upmarket. It recently updated the cabins of several Boeing 777-300ERs, introducing a next-generation Business Class with private suites, and unveiled a new cabin offered on its latest A350s.
On the occasion of its 90th anniversary, from September 28 to October 10, 2023, Air France set up an exhibition at Galeries Lafayette Paris Haussmann to showcase 90 years of travel, gastronomy, design, haute couture, art, and architecture. To embody and bring to life 90 years of elegance, Air France unveiled a collection of five iconic dresses representing the airline's various highlights. These dresses were on display in the Galeries Lafayette's windows, the Parisian temple of fashion. The occasion also featured a range of specially created or reissued items for this anniversary.
© Yann Arnould / Flightreviews.net
© Yann Arnould / Flightreviews.net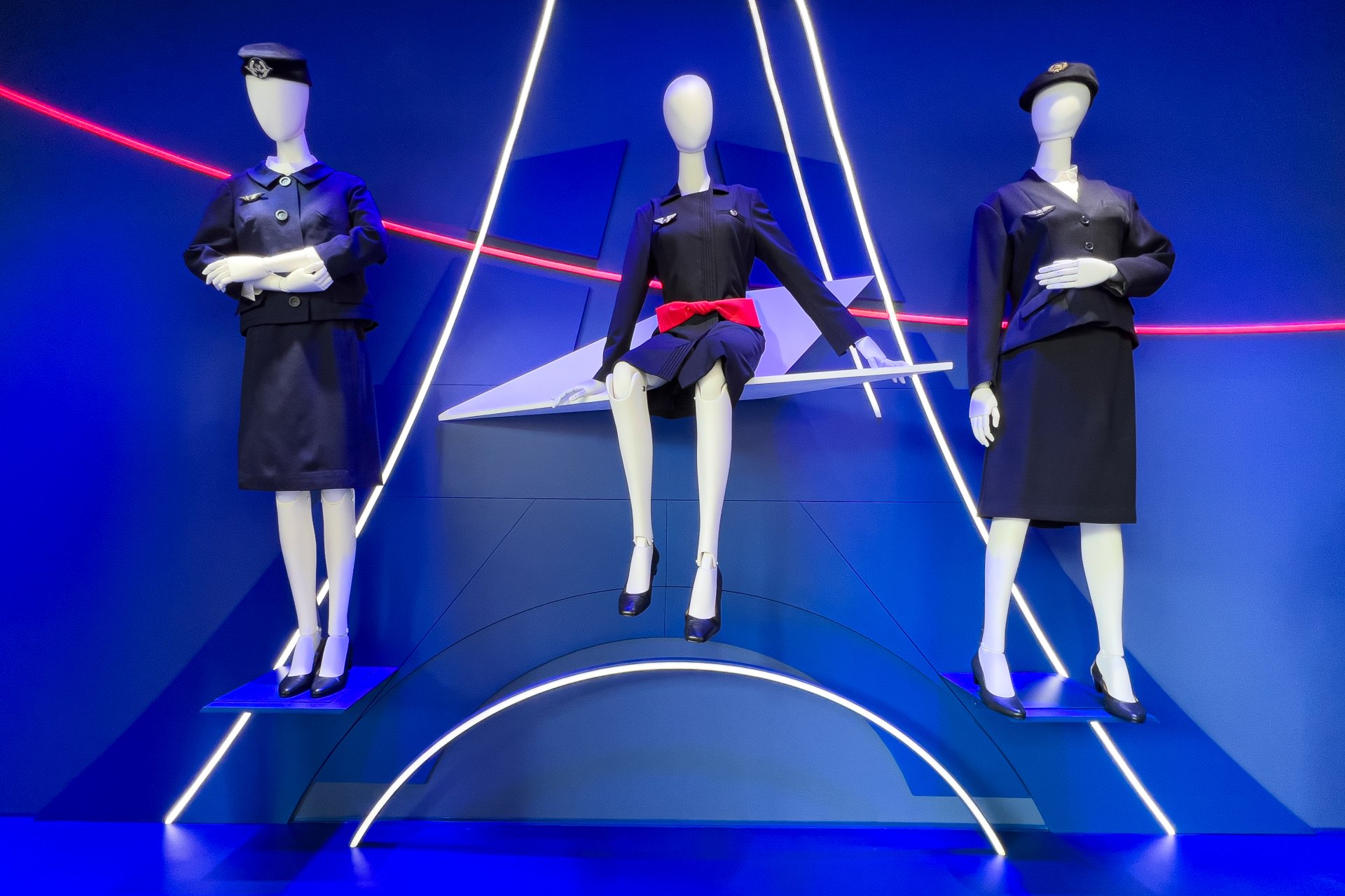 © Yann Arnould / Flightreviews.net
© Yann Arnould / Flightreviews.net
© Yann Arnould / Flightreviews.net
© Yann Arnould / Flightreviews.net
90 years after its inception, from the DC-3 to the Boeing 747, from the Super Constellation to the A380, and from the Concorde to the A350, Air France has adapted to the times. By welcoming increasingly modern and comfortable aircraft, the French national carrier has risen among the market leaders. The luxury and refinement of the past continue to shine through its craftsmanship, image, offerings, and services, particularly in its La Première First Class, positioning it as one of the best in the industry.
On this October 7, 2023, we would like to wish Air France an excellent 90th birthday, and all the best for the promising years ahead.